This year I will be continuing my weekly By the Numbers series of discussions and comparisons about the Texas Renaissance Festival attendance and weather. This week was opening weekend of what I have playfully dubbed the Year of the Change.
TRF have added an additional weekend and are thus opening a week earlier on the calendar this year. As I noted last week the Beefeaters were impacted by the addition of an extra gate at the front entrance, which meant we needed additional guards, which meant we needed additional uniforms. In the event we all were fitted with new uniforms and hats, and thanks to our very own Yeoman of the Wardrobe Amber, we looked really smart for opening day 2017.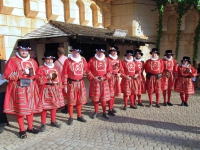 Attendance:
| | | | |
| --- | --- | --- | --- |
|   | Saturday | Sunday | Total |
| 2017 | 19,833 | 19,306 | 39,139 |
| 2016 | 29,844 | 30,788 | 60,622 |
As I've noted we are adding a week and starting earlier this year. So, do I compare the numbers to opening weekend last year? What about future weekends, do I compare based on the calendar, or week of the festival? I'll be taking my cue from the TRF, who are adding the new weekend to the beginning of their statistics instead of the end as was done when weekends were added in the past. Thus, you'll probably see these numbers again next week, and after that we'll be comparing on the calendar dates.
As you can see we were off quite a bit from last year's opening, but there's several things to note. First, not a lot of people realised we were open. There was plenty of advertising, local media promoted us, but the festival has done such a good job over the years of putting the message into the public consciousness: "Weekends in October and November" that September 30th just didn't register with many as opening weekend. I witnessed this first hand; a worker was talking to a friend on the phone (backstage) about being at TRF, and the friend was obviously insisting to her it didn't start until next weekend. Her response: "It's open now. I'm working the festival right now!" didn't seem to be getting through. I will be interesting to see how many people arrive next weekend with opening weekend tickets, thinking it the opening weekend. Second, and probably most importantly, so many in the community are still recovering from Hurricane Harvey.
Weather:
| | | |
| --- | --- | --- |
| | Saturday | Sunday |
| 2017 | Clear, High 87°, Low 65°, 56% Avg. Humidity. | Clear, High 89°, Low 65 °, 60% Avg. Humidity. |
| 2016 | Clear, High 80°, Low 60 °, 47% Avg. Humidity. | Clear, High 85°, Low 64 °, 46% Avg. Humidity. |
The weather is a much easier comparison, I'll go strictly by the calendar. This weekend last year was our Dress Rehearsal, and as I recall it was rather pleasant weather that Saturday (no rehearsal on Sunday), and the weather almanac bears that out.  It still wasn't too bad out this year, especially on Saturday in the shade. But those fabulous new uniforms can be a little stifling on a warm fall day. 🙂
Next time: Second Weekend: 1001 Dreams (a.k.a. Fairy Infestation).
—
See you at the gates… Until then, 'Fare thee well!'
_________________
Sir David Falstaff
Captain, Texas Renaissance Festival Beefeaters