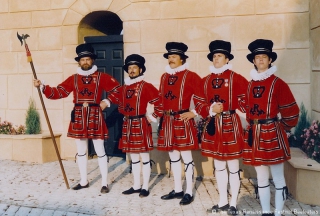 This week I have a special treat for long-time fans of the Beefeaters, or at least long-time attendees of the Texas Renaissance Festival. Capitan George (TRF Beefeaters, Retired) has added some vintage pictures from the way-back-when file to our 'Days Gone By' photo album.
Who knew they had colour film  back then?
He's got more that he plans to add later, and we also plan on doing an album of "TRF: Then and Now". You'll have to be patient, theses pictures are mostly from before digital cameras and will have to be scanned into his computer. Remember sending your film out to the photo lab and waiting to get the pictures back? No? Well then get off my lawn you darn kids!
The Beefeeaters were formed in 1987 when the front gates were upgraded from the old stockade fence. The photo to left is the first crew of Beefeaters from that year: (left to right) Captain George, Macbean, SomeGuyWhoseNameWeCantRememberBecauseWeHaveBeenReallyDrunkSinceThen, Tom, and Bobby. This was taken where the information booth is now.
Time to start getting into the mood for festival again, so why not go by the photo galleries and check out the new old pictures, and leave a comment here when you're done? You can find them by navigating to the Photo Galleries and  looking for  "Beefeaters photos from days gone by…" & "TRF: Then and Now"
Stay tuned, I'll update when more pictures get posted.
_________________
Sir David Falstaff
Captain, Texas Renaissance Festival Beefeaters