Who's Guarding Your Gate?
As is our custom we continue to provide a free downloadable Texas Renaissance Festival Entertainment Schedule and Map. They have now been have updated for 2011 and are available on the TRF Information Page of the website They are Adobe .PDF files so you'll need Adobe reader. The entertainment schedule is still marked preliminary, Continue reading →
The rumours were true; the Royal Fireworks have been replaced with Ye Olde Laser Light Show™. Details here: http://bit.ly/nM747A
Sarcasm aside, I am glad they have come up with a show of some kind to end the festival. I remember the days before there the fireworks, and the festival just kind of faded to an end. Having a definite finale to the day has always been better in my opinion.
Trying to reserve judgment on the laser thing, but I'm going to need some convincing.
Opinions?
It's no surprise, but the Texas Renaissance Festival have cancelled the fire works for the 2011 season. They have enacted a full burn ban and smoking restrictions. The full policy has been posted here:
I continue to receive inquiries as to the state of the Texas Renaissance Festival site and whether or not the festival will be open this year, etc. While I am glad so many of you regard the Beefeaters as an authoritative source of information, we aren't the Texas Renaissance Festival and we are not currently at the TRF site, and I'm not really the best source of information at the best of times, especially before I've had my coffee.
I was rather surprised to find several emails in my in-box this morning inquiring for information about the wildfires near the Texas Renaissance Festival and the city of Magnolia.
The Beefeaters are currently not at the festival site, and not a very good source of news or information. One of the Beefeaters was there on Monday, and reported that Continue reading →
[SinglePic not found]In our continuing effort to give you something to do until the start of festival, and as I teased in my last post, Capitan George (TRF Beefeaters, Retired) has been busy posting pictures from his archives. His new photo album "TRF : Then and Now" will be a real treat for long time festival-goers or the those just curious about TRF history.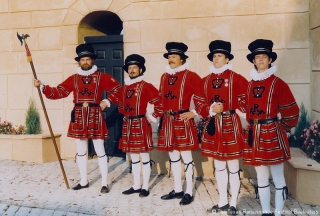 This week I have a special treat for long-time fans of the Beefeaters, or at least long-time attendees of the Texas Renaissance Festival. Capitan George (TRF Beefeaters, Retired) has added some vintage pictures from the way-back-when file to our 'Days Gone By' photo album.
Who knew they had colour film  back then? Continue reading →
The TRF Beefeaters FAQ (Yes, we really are asked these questions. Constantly.)
Do you know where the bathroom is?
Yes.

Where's the nearest bathroom?
I love this one. Do you honestly think that after you come up and tell me that you have to go, I'm going to keep that little tid-bit to myself?
Are there bathrooms inside?
Well, there are lots of bushes. OK, yes, in addition to the one outside the gates there are ten more privies (bathrooms) inside with a total of 302 flush toilets, and 245 urinals for the guys. You can relax now.
May I take your picture?
Of course! It is what I live for!
What do I do if I need to go to the car?
This is usually followed by a lengthy explanation of why they need to go to the car. It's OK; just get a hand stamp when you exit. Also, you are not required to tell us all the details of what you did when you come back either. (Unless it was kinky, Bartrand likes to hear that sort of thing).
Where's the nearest place to get a beer?… Continue reading →
Welcome!

uarding the gates of the Texas Renaissance Festival are the Beefeaters. Stalwart defenders of the gates of New Market village, they are a small detachment of the finest of the Yeomen of the King's Own Guard sent to New Market to secure the village for the King's annual progress, and ensure only invited guests are admitted to the festivities. Flamboyant and raucous, their importance can not be overstressed, as they are the first of the King's subjects that greet the guests on their way into the festival, and the last that they see as they start their journey home.
From the Captain of the Guard:
Good day to thee! and welcome to the Yeomanry web site of the Texas Renaissance Festival. During the festival season the patrons pass by us Beefeaters so quickly on their way in, we barely get to know them. We realize this is solely due to their eagerness to enter the grounds and festivitate, but we wanted to provide a chance for people to stop and get to know the men beneath the skirts. Enter our realm, and enjoy thy stay!
Web Site Terms and Conditions of Use
1. Terms
By accessing this web site, you are agreeing to be bound by these web site Terms and Conditions of Use, all applicable laws and regulations, and agree that you are responsible for compliance with any applicable local laws. If you do not agree with any of these terms, you are prohibited from using or accessing this site. The materials contained in this web site are protected by applicable copyright and trade mark law.
2. Use License
Permission is granted to temporarily download one copy of the materials (information or software) on the Texas Renaissance Festival Beefeaters's web site for personal,
non-commercial transitory viewing only. This is the grant of a license, not a transfer of title, and under this license you may not:

modify or copy the materials;
use the materials for any commercial purpose, or for any public display (commercial or non-commercial);
attempt to decompile or reverse engineer any software contained on the Texas Renaissance Festival Beefeaters's web site;
remove any copyright or other proprietary notations from the materials; or
transfer the materials to another person or "mirror" the materials… Continue reading