Who's Guarding Your Gate?
Do you like talking to people? Have you always wanted an excuse to wear a skirt and tights in public? Always fantasied about fondling tickets? Love to have your photo taken? If you answered yes to any of these questions, you may be Beefeater materiel! The TRF Beefeaters are looking for a few good men to join us at the front gates during the Texas Renaissance Festival's annual Job Faire is this weekend, September 13th and 14th.
-edit- Men need to be of proportionate height and build. We provide the tunic, hat and collar. You would need to provide red tights and appropriate shoes and belt. Women would need to provide appropriate full costume.
Where and when:
Come to the festival site on either day at 9:00 a.m. TRF Grounds, Globe Stage, 21778 FM 1774 Todd Mission, Texas 77363. Upon arrival to the festival grounds, please follow signs to parking area, and then follow signs to the Globe Stage.
For general information on the Job Faire see: http://texrenfest.com/job-faire
If you have questions about the Beefeater position you can contact us here
[SinglePic not found]In our continuing effort to give you something to do until the start of festival, and as I teased in my last post, Capitan George (TRF Beefeaters, Retired) has been busy posting pictures from his archives. His new photo album "TRF : Then and Now" will be a real treat for long time festival-goers or the those just curious about TRF history.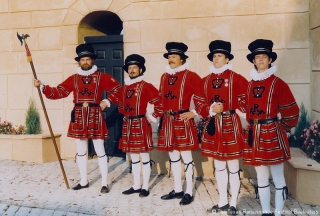 This week I have a special treat for long-time fans of the Beefeaters, or at least long-time attendees of the Texas Renaissance Festival. Capitan George (TRF Beefeaters, Retired) has added some vintage pictures from the way-back-when file to our 'Days Gone By' photo album.
Who knew they had colour film  back then? Continue reading →