Who's Guarding Your Gate?
It will be a short update this week, as we also had our annual School Days this week. More Renaissance Festival means less time at the keyboard, for better or worse!
The beer is iced, the tights are packed, and the TRF Beefeaters are ready for opening weekend 2014, are you? Gates open at 9 a.m. regardless, so see you there!
Do you like talking to people? Have you always wanted an excuse to wear a skirt and tights in public? Always fantasied about fondling tickets? Love to have your photo taken? If you answered yes to any of these questions, you may be Beefeater materiel! The TRF Beefeaters are looking for a few good men to join us at the front gates during the Texas Renaissance Festival's annual Job Faire is this weekend, September 13th and 14th.
-edit- Men need to be of proportionate height and build. We provide the tunic, hat and collar. You would need to provide red tights and appropriate shoes and belt. Women would need to provide appropriate full costume.
Where and when:
Come to the festival site on either day at 9:00 a.m. TRF Grounds, Globe Stage, 21778 FM 1774 Todd Mission, Texas 77363. Upon arrival to the festival grounds, please follow signs to parking area, and then follow signs to the Globe Stage.
For general information on the Job Faire see: http://texrenfest.com/job-faire
If you have questions about the Beefeater position you can contact us here
As part of the run-up to the Texas Renaissance Festival's fortieth anniversary a pair of photographers who go by the handles Moondawg and Gunslinger have been scanning and posting photos from the TRF archives Continue reading →
I just want to complement Captain George (retired) on the gallery. I have been enjoying both the pictures and the captions he has added.
Great job.
Keys to the Tower of London drawbridges were stolen last week but nothing else was stolen, officials reported on Monday.
LONDON — A rare security breach has been reported at the Tower of London, one of the British capital's most famous landmarks.
Authorities say the Crown Jewels and other unique artifacts are safe but that locks had to be changed after an intruder broke in and stole some keys. Officials said Monday the keys were stolen from a sentry box at the site. They would have provided access to the Tower's drawbridges and some other areas.
Authorities say the keys were stolen last Tuesday and a police investigation into the theft is under way. A Historic Royal Palaces statement said security procedures had not been properly followed.
The Tower is guarded by Yeoman Warders, commonly known as Beefeaters.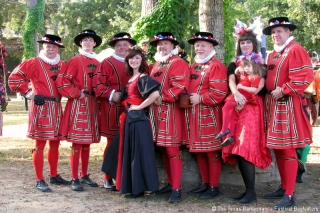 With the Texas Renaissance Festival under way it's time to launch our 2012 photo galleries! For your viewing pleasure the two new galleries are The 2012 Season: Pictures of the TRF Beefeaters and their antics from the 2012 season,  and TRF: 2012 Temporary Gallery: Pictures of the sights and people of the 2012 Texas Renaissance Festival. Some of the TRF pictures will move to the permanent TRF : Then and Now gallery, others will only be available this year. Enjoy, and check back for updates as the season progresses.
Here's wishing you an yours a very happy Christmas from the The Texas Renaissance Festival Beefeaters! Hope Father Christmas brought you everything you wanted. He brought us rain!
Happy Thanksgiving to all. Hope you have a wonderful day with friends and family. Be safe and maybe we'll see you over the weekend.
Your Friends,
The Texas Renaissance Festival Beefeaters
Week five in our Beefeater's Fan Contest winners are Eric Barker, Harlan Petty Jr., Monica Williams, Ashley Wolff and Wendy Easterling. All will receive two Texas Renaissance Festival tickets good any day courtesy of the TRF Beefeaters! The winners have been notified by email.
Continue reading →