Who's Guarding Your Gate?
The beer is iced, the tights are packed, and the TRF Beefeaters are ready for opening weekend 2014, are you? Gates open at 9 a.m. regardless, so see you there!
Do you like talking to people? Have you always wanted an excuse to wear a skirt and tights in public? Always fantasied about fondling tickets? Love to have your photo taken? If you answered yes to any of these questions, you may be Beefeater materiel! The TRF Beefeaters are looking for a few good men to join us at the front gates during the Texas Renaissance Festival's annual Job Faire is this weekend, September 13th and 14th.
-edit- Men need to be of proportionate height and build. We provide the tunic, hat and collar. You would need to provide red tights and appropriate shoes and belt. Women would need to provide appropriate full costume.
Where and when:
Come to the festival site on either day at 9:00 a.m. TRF Grounds, Globe Stage, 21778 FM 1774 Todd Mission, Texas 77363. Upon arrival to the festival grounds, please follow signs to parking area, and then follow signs to the Globe Stage.
For general information on the Job Faire see: http://texrenfest.com/job-faire
If you have questions about the Beefeater position you can contact us here
As part of the run-up to the Texas Renaissance Festival's fortieth anniversary a pair of photographers who go by the handles Moondawg and Gunslinger have been scanning and posting photos from the TRF archives Continue reading →
Someone finally noticed a couple of weeks ago and asked "Didn't there used to be some posts from after Halloween last year?" No you're memory isn't wrong, (at least not about that). Continue reading →
Well this press release from the TRF made me happy, they are getting world renowned artist Real Musgrave to do the poster and program again this year. It's been over 20 years since he was the 'Official Artist' for the festival, so a lot of people probably don't remember, but I always preferred his whimsical creations to the posters with photographs.
Real is probably best known for his Pocket Dragon collectable sculptures and artwork. I learned from the press release there was even an animated TV series: "Pocket Dragon Adventures". He is now retired and back in Texas after living abroad for some time.
Real will also be available for signings opening weekend, so I may have to get in line to get a signed poster to go with the ones I have from back in the day. Real and his wife Muff Musgrave will donate all proceeds to the Humane Society of Flower Mound Texas, where they now reside.
Link to the official press release here.
Beautiful weather Saturday brought out guests in droves. The print-your-own tickets were especially popular this week, and those take a little more work on our part. (Think about the difference between handling printer paper and card stock). I also took over as much of the scanning of tickets as I could with the goal of freeing up the rest of the Beefeaters to focus on greeting everyone instead of just taking and scanning the tickets. I was so busy in fact I was mostly unable to enjoy in one of my favourite parts of AHE; costume watching. Still I managed to spot a few interesting ones. Lots of  Shreks. Lots of Waldos. Lots of anime characters, Naruto, Dragon Ball and Pokemon being the most numerous of these, but a few more obscure ones too. Lots of Star Trek, the weirdest being the couple in the courtyard taking turns spanking each other. (Yeah, me neither.) Multiple Doctor Whos. Legions of Storm Troopers, Jedi and Darth Vaders. Scads of Zombies. A fair number of Sailors. (What, was it Fleet Week too?) Some of the good ones were the 'Fantasy Horses' who… Continue reading →
Ah, the second weekend weather was pure bliss after the hellish sauna of week one. I was tempted to say I was a bit chilly couple of times, with the alternative still fresh in my mind from the week before I didn't dare say a word. The crowds reflected the nice weather too, as we had around 30,000 both days setting a second weekend attendance record.
This week our goal was to sample some of the new foods at the festival this year. First up was the Teriyaki Chicken at new Asian Food booth… What's that? We're Beefeaters, how can we possibly eat anything but beef? OK, look, if we are going to name ourselves based on what we consume then we'd have to be called the Beerdrinkers. Somehow that doesn't really have the same charm to it does it? I really can't believe you don't want us to have little variety in our menu. Really, beef all the time gets a little boring. Will it help if I tell you it was free range chicken? No? Well you're just going to have to deal with it because the Teriyaki… Continue reading →
Well I have to say the opening weekend of the 2013 Texas Renaissance Festival is about the most miserable I've been in a long time. Sure we've experienced hotter, and wetter, but the temperature and humidity especially on Saturday combined in a perfect storm of no breeze and oppressive humidity that to be experienced to be appreciated. Experienced it was though, as we had nearly 30,000 visitors. Sunday began with heavy rain, thunder and lightning, and when it finally ended we returned to oppressively humid, yet almost another 12,000 visitors graced us with their presence.  There were, however,  a goodly number of those who succumbed to the heat; I heard lots of calls go out to EMS for heat exhaustion. Even a couple of the Beefeaters needed an extra break. Beer, wonder beverage that it is, remains a poor substitute for water when trying to stay hydrated.
The Beefeaters have a few new faces this year too. I was able to add a couple of positions after a record-breaking 2012. I was a little worried with three recruits and big crowds Saturday, but they acquitted themselves well, and… Continue reading →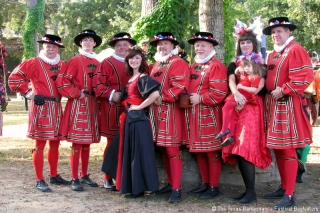 With the Texas Renaissance Festival under way it's time to launch our 2012 photo galleries! For your viewing pleasure the two new galleries are The 2012 Season: Pictures of the TRF Beefeaters and their antics from the 2012 season,  and TRF: 2012 Temporary Gallery: Pictures of the sights and people of the 2012 Texas Renaissance Festival. Some of the TRF pictures will move to the permanent TRF : Then and Now gallery, others will only be available this year. Enjoy, and check back for updates as the season progresses.
Did you know that starting this year that the price for a ticket to the TRF is different depending on which day of the weekend you go to the festival? That's right; going on a Sunday will save you $3 per adult and $2 per child when you purchase your ticket online or at one of at one of the ticket outlet locations*.
Savings could add up pretty quickly. I figure with a little planning the average family could save the cost of one or two beer easily. Continue reading →